We, at the Home Savvy Real Estate Team, created this user-friendly real estate website with you, the customer, in mind.  Like most people, your home is the #1 financial asset you will own throughout your lifetime; therefore we believe it is crucial to help educate you, with information, data, statistics, and our professional experiences, so you can make the right decisions to benefit your family.  
We chose to be in the real estate business to serve.  That is the Home Savvy way.  This website was created for anyone with interest in Durham Region real estate and any of the following criteria:
You are interested in properties listed and located in the Durham Region.
You enjoy researching or looking at houses, condos, townhomes, bungalows, apartments, vacant land, investment properties, duplexes, or any other form of real estate.
You may be considering the purchase of real estate in the next 24 months.
You like lots of up-to-date property information, including street addresses, pictures, maps, virtual tours, and more.
You want a website that is responsive, reliable, and quick-loading (i.e. no waiting).
Your questions are answered quickly and thoroughly from full-time, professional REALTORS®.
Professionalism, morality, and ethics matter to you.
DURHAM REGION - Ontario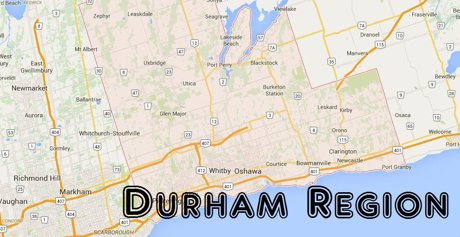 The Regional Municipality of Durham was established in 1974 and became one of four regional governments in the greater Toronto area.  Durham Region consists of the following eight municipalities:  Ajax, Brock, Clarington, Oshawa, Pickering, Scugog, Uxbridge, and Whitby.
Durham Region lies just east of Toronto in southern Ontario known as the Golden Horseshoe.
The southern portion of Durham is greatly urban and recently is experiencing rapid growth in all three sectors of residential, industrial and commercial. Northern Durham is mostly rural and enjoys a thriving agricultural sector. Northern Durham lies within the Ontario-designated Greenbelt and contains the environmentally sensitive Oak Ridges Moraine.
Area: 2,537sq. km 
Durham Region Real Estate Market Trends
Durham Region, along with much of the Greater Toronto area has held steady, aggressive growth in 2016 with prices in Durham averaging 14.1% more since the end of 2015, where the average Durham Region home sold for $442,082 (includes MLS® statistical data through 5/31/2016).
Durham Region Home Price Average 2015:  $442,082
Durham Region Home Price Average 2014:  $391,692
Durham Region Home Price Average 2013:  $357,529
Durham Region Home Price Average 2012:  $335,991
Durham Region Home Price Average 2011:  $317,232
Durham Region Demographics
Durham Region Population:
Census population 1991 - 409,070
Census population 1996 - 458,616
Census population 2001 - 506,901
Census population 2006 - 561,258
Census population 2011 - 608,124
Total estimated population 2016 - 656,055
Total male population (2014) - 320,881
Total female population (2014) - 332,686
Durham Region Households (2011):
Total number of households - 220,598
Average number of persons in household - 2.81
Average household income - $ 64,041
Durham Region Citizenship & Residency:
With Canadian citizenship 582,845
With citizenship other than Canadian 18,740
Durham Region Knowledge of Languages other than English or French; Top 5:
Italian - 8,880
Spanish - 7,830
Filipino - 7,540
Urdu- 7,005
German - 5,840
Durham Region MLS® Communities
Oshawa:  Beaton, Centennial, Central, Columbus, Donevan, Eastdale, Farewell, Kedron, Lakeview, McLaughlin, Northglen, Northwood, O'Neill, Pinecrest, Raglan, Rural Oshawa, Samac, Stevenson, Taunton, Vanier, Windfields
Whitby:  Blue Grass Meadows, Brooklin, Downtown Whitby, Lynde Creek, Port Whitby, Pringle Creek, Rolling Acres, Rural Whitby, Taunton North, Whitby Industrial, Williamsburg
Pickering:  Amberlea, Bay Ridges, Brock Industrial, Brock Ridge, Duffin Heights, Dunbarton, Highbush, Liverpool, Rosebank, Rouge Park, Rougemount, Rural Pickering, Town Centre, Village East, West Shore, Woodlands
Ajax:  Central, Central East, Central West, Northeast Ajax, Northwest Ajax, South East, South West
Clarington:  Bowmanville, Courtice, Newcastle, Orono, Rural Clarington
Scugog:  Blackstock, Port Perry, Rural Scugog
Brock:  Beaverton, Cannington, Rural Brock, Sunderland
Uxbridge:  Rural Uxbridge, Uxbridge
Important Durham Region Links:
Region of Durham:  Regional Council 2014-2018
Regional Chairperson and CEO:
Roger Anderson
905-668-7711
chair@durham.ca
Town of Ajax:
Mayor Steve Parish
Councillor Shaun Collier
Councillor Colleen Jordan
905-683-4550
contactus@ajax.ca
Township of Brock:
Mayor John Grant
Councillor Ted Smith
705-432-2355
brock@townshipofbrock.ca
Municipality of Clarington:
Mayor Adrian Foster
Councillor Joe Neal
Councillor Willie Woo
905-623-3379
info@clarington.net
City of Oshawa:
Mayor John Henry
Councillor John Aker
Councillor Dan Carter
Councillor Bob Chapman
Councillor Nancy Diamond
Councillor Amy McQuaid-England
Councillor John Neal
Councillor Nester Pidwerbecki
905-436-3311
service@oshawa.ca
City of Pickering:
Mayor Dave Ryan
Councillor Kevin Ashe
Councillor Bill McLean
Councillor David Pickles
905-420-2222
customercare@pickering.ca
Township of Scugog:
Mayor Tom Rowett
Councillor Bobbie Drew
905-985-7346
905-985-7393
mail@scugog.ca
Township of Uxbridge:
Mayor Gerri Lynn O'Connor
Councillor Jack Ballinger
905-852-9181
info@town.uxbridge.on.ca
Town of Whitby:
Mayor Don Mitchell
Councillor Derrick Gleed
Councillor Joe Drumm
Councillor Elizabeth Roy
905-668-5803
clerks@whitby.ca