We, at the Home Savvy Real Estate Team, created this user-friendly real estate website with you, the customer, in mind. Like most people, your home is the #1 financial asset you will own throughout your lifetime; therefore we believe it is crucial to help educate you, with information, data, statistics, and our professional experiences, so you can make the right decisions to benefit your family.
We chose to be in the real estate business to serve. That is the Home Savvy way. This website was created for anyone with interest in York Region real estate and any of the following criteria:
You are interested in properties listed and located in the York Region.
You enjoy researching or looking at houses, condos, townhomes, bungalows, apartments, vacant land, investment properties, duplexes, or any other form of real estate.
You may be considering the purchase of real estate in the next 24 months.
You like lots of up-to-date property information, including street addresses, pictures, maps, virtual tours, and more.
You want a website that is responsive, reliable, and quick-loading (i.e. no waiting).
Your questions are answered quickly and thoroughly from full-time, professional REALTORS®.
Professionalism, morality, and ethics matter to you.
YORK REGION - Ontario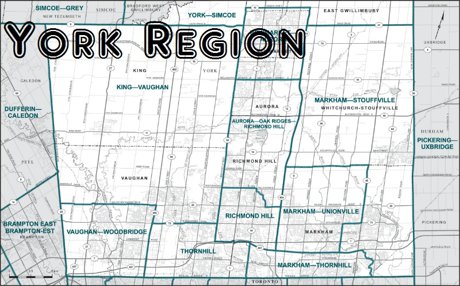 YORK REGION MLS® COMMUNITIES
Aurora MLS® Communities: Aurora Estates, Aurora Grove, Aurora Heights, Aurora Highlands, Aurora Village, Bayview Northeast, Bayview Southeast, Bayview Wellington, Hills of St. Andrew, Rural Aurora
East Gwillimbury MLS® Communities: Holland Landing, Mt. albert, Queensville, Rural East Gwillimbury, Sharon
Georgina MLS® Communities: Baldwin, Belhaven, Historic Lakeshore Communities, Keswick North, Keswick South, Pefferlaw, Sutton & Jackson's Point, Virginia
Georgina Islands MLS® Communities: Fox Island, Georgina Island, Snake Island
King MLS® Communities: King City, Nobleton, Pottageville, Rural King, Schomberg
Markham MLS® Communities: Aileen-Willowbrook, Angus Glen, Bayview Fairway-Bayview Country Club Estates, Bayview Glen, Berczy, Box Grove, Bullock, Buttonville, Cachet, Cathedraltown, Cedar Grove, Cedarwood, Commerce Valley, Cornell, Devil's Elbow, German Mills, Grandview, Greensborough, Langstaff South, Legacy, Markham Village, Markville, Middlefield, Milliken Mills East, Milliken Mills West, Old Markham Village, Raymerville, Rouge Fairways, Rouge River Estates, Royal Orchard, Rural Markham, Sherwood-Amberglen, Thornhill, Unionville, Victoria Manor-Jennings Gate, Victoria Square, Village Green-South Unionville, Vinegar Hill, Wismer
Newmarket MLS® Communities: Armitage, Bristol-London, Central Newmarket, Glenway Estates, Gorham-College Manor, Huron Heights-Leslie Valley, Newmarket Industrial Park, Stonehaven-Wyndham, Summerhill Estates, Woodland Hill
Richmond Hill MLS® Communities: Bayview Hill, Beaver Creek Business Park, Crosby, Devonsleigh, Doncrest, Harding, Headford Business Park, Jefferson, Langstaff, Mill Pond, North Richvale, Oak Ridges, Oak Ridges Lake Wilcox, Observatory, Rouge Woods, Rural Richmond Hill, South Richvale, Westbrook
Vaughan MLS® Communities: Beverley Glen, Brownridge, Concord, Crestwood-Springfarm-Yorkhill, East Woodbridge, Elder Mills, Glen Shields, Islington Woods, Kleinburg, Lakeview Estates, Maple, Patterson, Pine Valley Business Park, Rural Vaughan, Sonoma Heights, Steeles West Industrial, Uplands, Vaughan Corporate Centre, Vaughan Grove, Vellore Village, West Woodbridge, West Woodbridge Industrial Area
Whitchurch-Stouffville MLS® Communities: Ballantrae, Rural Whitchurch-Stouffville, Stouffville
The trademarks MLS®, REALTOR®, and related marks, and all copyright in the real estate listings, are owned or controlled by the Canadian Real Estate Association. Reproduced under license.